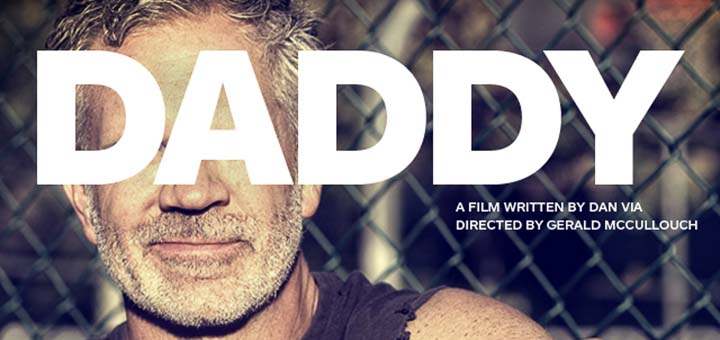 Gerald McCullouch known from the Bear City movies, CSI TV series and more invites Norway Bears to come and join him at the Oslo/Fusion film festival and see his new movie Daddy, which he both plays the main character and has directed.
Gerald has a special place in Norway Bears' hearts after wearing our club t-shirt in a scene in the movie Bear City 2.
Gerald will be attending the film festival at Cinemateket.
Colin McCormack thinks he has it all – a great job, an endless stream of hot young guys, and a best friend whose devotion he takes for granted. When he meets his new assistant Tec, he is instantly swept off his feet by the young man, who in turn adores him. As their relationship progresses, his lifelong friendship with Stew is put to the test. Stew has been happy to live in Colin's reflected light, but can't handle the fact that someone else has taken his place. Colin sees his chance to settle down and start a family, but when a dark secret sees thelight, Colin finds himself in danger of losing everyone – and everything – he holds dear.
Based on Dan Via's critically acclaimed stage play of the same name, "Daddy" is also McCullouch's feature film directorial debut.
Venue: Cinemateket, Dronningens gate 16. Se kart her: https://goo.gl/05XYqz
When: Wednesday September 16, 7 PM.
More info: http://www.cinemateket.no/141969/oslo-fusion-daddy